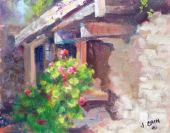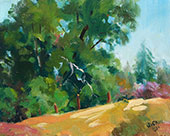 A Colorist's Nostalgic Impressions (cont.)

Family responsibilities behind her, in 1987, Cain took early retirement to return to painting by attending college, numerous workshops, and taking private lessons. She also opened "The Art Gallery," near Murphys. She has studied with such noted artists as Ted Goerschner, Ann Templeton, and Susan Sarback.
She lives in Murphys, CA with a personal studio at her home, The Art Studio (formerly The Cain Art Studio) is a working studio open by appointment, classes and special events. Judie teaches group classes, private lessons, and participates in shows at various venues.
FEATURED SHOWS: Haggin Museum, 5/99, Stockton, CA; Main Street Gallery, Murphys, 6/99, 9/2000; San Joaquin County Arts Council 7/93, 8/95, group invitational 5/96, Stockton, CA; Lasting Impressions Gallery, Carmel, CA 2002; Iron Door Gallery, Murphys, 2008; Townhall Arts 8/2011; Ventana Gallery 4/2012 (selected solo); Hovey Wines, 2014; Gallery 10, Sutter Creek 9/16 and 6/19.
PUBLISHED: US ART MAGAZINE 2/98 and "Woman To Watch" 1997, '98, '99; Sierra Heritage Magazine, spring, 1998; Get Up & Go (lifestyles) interview, 11/98, collage of her works on the cover of "Gold Country Magazine" 2003; artwork used in "Faith & Family" winter 2004/5, cover 2006 catalog Catholic Heritage Curricula and textbooks; "Valley Views Magazine" interview, summer 2006.
Judie Cain's works are found in collections around the world.
For representation see Galleries